This time around it was plain obvious that this time around my birthday wouldn't go unnoticed. Vinu, my school mate who happens to be in Mangalore, ensured that I was literally counting down to the D day. Well, for a guy whose birthdays have mostly been on school vacations period or College study leaves, I have largely escaped from the ceremonial cruelties like bumps and cake smearings. Vinu menacingly seemed to guarantee that this time, unlike my earlier birthdays, I wouldn't simply go Scot-free. I had hoped that since coincidentally his birthday falls on the very next day(i.e. June 8th), the idea of him getting a similar treatment, would be enough reason for him to rethink his plans. Well, to his credit, not only he delivered what he promised, but much more!!!
On the fateful night, it would be the biggest understatement to say that I couldn't neither sit not lie down without wincing in pain. It would an equally big understatement to say that I was covered in food. Layers of cake, sambhar, potato curry and tea remains were literally oozing from my hair and dripping on the floor. On that night, I thanked my stars that Dinesh, our cook, hadn't prepared any more food in the kitchen. I also thanked that the birthday party that night was just four of us, else my rear end would have remained sore for several days to come. Apparently, my stars were not too generous to my plight. My remaining birthday bumps were awaiting me, not too surprisingly enough, at the workplace. Yes folks the very barbaric act was to be performed in front of hundreds of half amused Infoscions in our Food Court. Actually, it is almost a routine sight in our food court to see a jolly good chap hung like grilled chicken at two ends being subjected to filial love in the form kicking his bottoms out. But suddenly I realized that one could attract enough attention by crying your lungs out even before the ceremony actually started.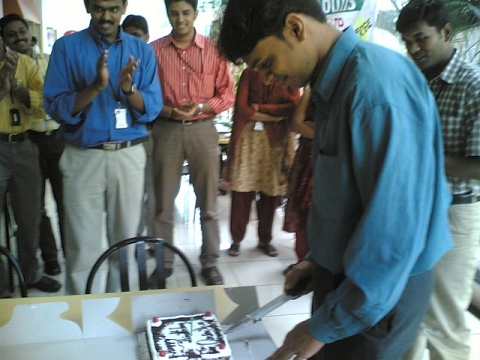 And the second cake cut that day, as you would have expected by now, ended up mostly stamped on my face. As if to put a cherry on this cake of humiliation, a birthday testimonial was written about me. As a practice in Mangalore DC, this email is circulated to the entire DC. The testimonial reads:
Arun, the most lean fellow in the GAP Team. Who always bubbles with Energy with his witty Jokes and spends most of his after work hours exploring his interests in www :-).

Arun V Ravindran hails from Trissur and had joined Infosys in May 2004 as an Acon in ES (EAI). Don't get deceived by his innocent looks. He's got all the tricks in his hands to get anyone carried away in his way :). An Associate consultant who wins one of the prizes in the coding competition is about the best way to start introducing him to anyone who doesn't know him yet. After a Solid stint at UBS project in Pune DC, he was allocated GAP WBI project in Mangalore, which makes his longest stint at Mangalore DC. He is known for his witty conversations and brilliant Jokes. He is sportive and does not hesitate to share crazy jokes on Mallus as well.

By nature he is a studious guy and an ardent music lover and an avid reader and yeah he's got the talent to sing that's what he thinks and tried his luck for Minfy Idol too. He along with his sis does some karaoke recording and sends them to all his friends. God save them! :)

He keeps a huge dump of movies and music. Legend has it that he still has 500 GB storage of assorted movies and he keeps updating the list. Rumor is still on that he has a huge fan following in London (including a French girl). A keen observer of facts - in one of the training sessions he had pointed an error in a flowchart from the official presentation of software major.

Most of his friends envy his most precious possession, a very high end Digital Camera which u can see him carry on all Events held in MINFY. Guess, it's needless to say that he is interested in photography. He recently won a prize in the Photography contest in Ittesbin 2006.

He's other interests include Pencil Drawing, Flash Programming and of course any sort of Programming latest being Orkut. Wonder if he can be called Jack of all trades master of none.

Word is out that his room mates and closest friends had a great time partying and treating him equally.

Here's smilES wishing him a great Birthday!
Well, suffice to say that this birthday was truly unforgettable. Especially for the next few days whenever I tried to sit or lie down somewhere. Vinu never got the taste of his own medicine. His birthday was a very mild version of what I was subjected to. But, of course, there are many, many birthdays to come ;-)