Please note that all the jokes below are in Malayalam. Salim Kumar is a Malayalam film comedian who often pairs with Dileep with a knack for witty one-liners. These jokes are mostly from the Salim kumar communities in Orkut. Many thanks to all Salim kumar fans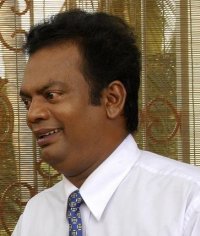 » Thilakkam: onnam class muthal kanjavu valichirunenkil
chalpalannu ippo english parayamayirunnu…
---
» Chathikkaatha Chanthu: Q. Ithu aarude kottaramanu? Ithu madya thiruvitankoor bharichirunna oru rajavinte kottaramanu..peru sasi maharajavu…
---
» KalayanaRaman Trying to break the coconut besides the lady and the lady falls to the pool of water and SK says 'Yenta oru shabdham ketathu???'
'Thenga odachappo oru piece vellathil poyathaanu'
---
» "Njan advocate Mukundan Vakkeel. da coat-e"
---
» Thilakkam Salim Kumar: njangalkku aliyanum aliyanum koody kurachu talks nadathanundu………..cashine kurichulla talks …Casual talks…….
---
» Chadikaatha chandhu
"Im Micheal Elias ,JAckson Elias,Vikram Elias"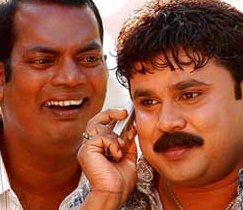 ---
Thenkashipattanam salimkumar to dilip:
nammal kaanaan pokunnath devootiyeyalle allathe mammotiyeyallalo.
---
» Salim Kumar is reading the classifieds section in the newspaper…"Varanmaare aavashyamundu……………………AASHWAASAM KANDAAL MAATHRAM PRATHIBHALAM. Eh?? Ithu veraiy parasyamaanallaiy…oh..thetti vaayichu"
---
» "Iyaal enthu pani aado e kaanickkunne…Thanne kondu njan thottallo..I ALL SO FAILED OF YOU."
---
» nee sahakarikukayanengil ee kalavara namukoru maniyarayakkam…
---
» VAYARINTE VALATHU BHAGATHU KARUTHA MARUGULLA STHREE AANO EE KUTTYUDE MUMMY…..
---
» Pulival kalyanam Nammal Nalu perallathe moonnamathoral ethu ariyarythu. Nee vilichal aval erangi varumo?.
---
» dileep: entha ithu???
salim: welcome!!!
dileep: ithu welcome alla… melcow…
salim: oh anganeyum vaayikkaamo???
puthiya lipi aayathu konda…
pazhaya lipi aayirunnengil njan kalakkiyene….
---
» THILAKKAM salim kumar : entha ithu?
bindhu panikar : athu unni valicherinja chora
salim k : ho!! njan vicharichu ente thala choru purathu vanathanennu!!!!
---
» While in a boat " Sidesitil irikam inale kattu kollu "
---
» Ee Dharmendrayude chila samayathulla COMEDY kettaal, chirichu chirichu kakshathu neeru varum… hu hu hu
---
» CHESS
its a dialogue to dileep
sirine njan ente ammaye pole snehikum….
---
» Don't dooo, Don doooo
---
» Salim asking: perenthaanu?
Other dude: Pesatheda Porukki
Salim :Pesatheda Porukki,haha.. Peru kettittu cinema peru poley irikkunnu.
---
» wen salim kumar signs on d document harisri asokan asks ithenthina ningalkku njan kaashu thannennullathinu enikkorurappu vende. njan aara mon
---
» Kaanan valya lookilla enne ullooo…pakshe bayankara budhiya
---
» Dileep : Pani theernno SK : Pani eppozhae theernnu..innale 12 manikku.. heart attack aayirunnu… Dileep : Athalla, ninte pani theernno-nnu SK : Pani theernna njaan ivide nikkumo, mookkil panji vecchu evideyenkilum poyi rest edukkoolle…
---
» Thenkasipattanam Dilip: Nee enthanda kudikkunnathu?
Salim: Ithiri barley vellam…
Dilip: pinne,athinentha oru brandiyude manam?
Salim: Athalle paranje.Barile vellamnnu…………..
Salim: Da ee cycle rally aano,Hercules aano?
Dilip: aalkkaru purake odivarunnathu kandille? Ralliya……
---
» angu dufaiyil ee shakkinte idam kai aanu njan…avide ellam edathottanallo
---
» Pulival Kalyanam
Salim Kumar: Rathri entha kazhichathu?
Cochin Haneefa : Chapathiyum Dal Curryum
Salim Kumar :Paranjathu Nannai..Risk edukanda…
---
» Kannimasam vanno ennariyan pashuvinu calendar nokkenda aavashyam illa (Dileep was trying to flirt with Navya Nair and denying the relationship to Salim Kumar and Innocent).
---
» Pulival Kalyanam kallavandi keran polum kaayill kaashillaathathu kondu njan oru taxi vilichu angottu varam..
---
» after relesing dileep frm police custody……."NANDI UNDU SIR NANDI UNDU…."…. blows into his pocket….."NANDI MATHREMEY ULLU ALLEY????????????????"
---
» Thommanum makkalum When Lal Mammooty & Ranjan. P.D came 2 Tevar's house SK tells 2 them "Nigalkariyamo pandu kolum kulayumulla tharavatille avaasaanate kanniyaa njan epol kollillanee ullu baaki ellam undu .(kulaa) Njgal parampragathamai Gunda-kalla ente acchan gundaa,amavan gunda,apuppan gunda Enthinere parayunnu entee Bhariya vere aaa naattille ariyapedunna GUNDI YAYIRUNADAA GUNDI….."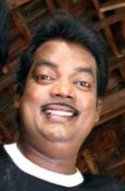 ---
» Pulival Kalyanam Salim kumar as manavalan & Madavan as manvalans father manavalan: odivil kuttasammatham nadathi alle.achan anatre achan dashhhh…(Adi) ithu nhan ente ammaku kodutha vakka ningal ariyamayirunoo cherupathil nhan achane kananam achane kananam enu paraju vashi pidikumbol palliyil achan mare kanichu samathanippikumayirunu ente ponnamachi…hmmm enittu ippom vannirikunu Madavan: Edo njan ninte achan onnum alla manavalan: pinne njan engane undaiiii?
---
» Kalyanaraman "keep it up"…"keepayi irikkan thatparyamundennalle?"
---
» Thommanum makkalum when mammooty comes to see layas father salim kumar:(deshyathode meesa pirichukondu) "njan ivente kayyil ninnum vangum"
---
» andhayaaya navya naayare nokki..SK.. daivame enikke kaazhcha illa yirunnenkil ivalkke oru jeevidam kodukka mayirunnu.. daivame ennode enthine ee krooratha cheythu..??
---
» Pulival Kalyanam "angana padakka company khudaaa gava…"
---
» enikku ee vishappinte asukham undey, unakkameen vangikkan poya ente murappennu loriyidichu marichu aaa pinne annu njan unakkameen kondu adjustu cheythu
---
» ammavan marichathode utharavaditham muzhuvan ente eee tholilayi,, athenikishteppettillaaaaaaaaaa
---
» entha kutta praayamaayavare kaaliliruthi mullikkamo kaalil rogam varille california!!!!!!!!!!!!
---
» Pulival Kalyanam harisree asookan : kalyanam kazhicoo… sk: illaa naan bachelaraanu ha: kuttikal… sk: illa ningalkoo ha: athee ollu ha: sarinte achanoo sk: addehavum oru bachelor aayirunnu ha: appo muthachanooo…. sk: chrooonic baachelor……
---
» Chess Pachakari medikkunnathu kuttkaram anennu enikariyillayirunnu sir…
---
» dharalam mudra patrangal vendi varum .. namakku documentry thayyarakkande…
---
» the home appliances of the two families u r the link………………..no…….. no………… no…………u r the link of the link. the two families attached to hte bathroom ur families food and accomodation. wat do u mean……………oh angnonnum illa ……….neymeen…..chalameen…….ailameen…..silopimee……..emmmmmmm………poor boy english polum arinjukooda enittu ennodu speachan vannirikkunnu………..malayalees………………
---
» End of the first night salim: ho neram velutho,itha cash wife: muzhuvanum undallo alle…
---
» "ITHAVIDE, ITHATHINTE DHAPPURATH"
---
» " ITHA LADU LILEBI.."
---
» In pulivaal kalyana "sangeetham padikanamenna mohavumayi njaan chennu kayariyathu oru singatthinte madayilayirunnu….- usthad alavaladhi khaan avasaanam guruvinte vaayil oru pidi manal vaari ittu yathrayayi…by the by njaan vishayattil ninnum pinmaariyo…where is the lyrics….gagapamaaaaa….ahah subash subash…..idadanakkam…gujarathi kalthala kettyiya malayalee pennanu njaan panjabiiiiiiiiiiiiiiiiii…..
---
» Ee Bloody Indians and malayalees pranchu nadakkunnu..enikku dufaiyil kooli paniyanennu… nattil oru image undakiyedukkananu MANAVALAN N SONS enna ee boardum..Eee nhanum ..pinne ee pipe um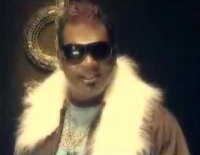 ---
Thenkashipattanam sk: da!! aa kaalede nottam athra sheriyalla.. dileep: athinu ninakkentha?? sk: ninakku prashnam onnum illallo, njan alle purakil nilkunnathu…
---
» Ningalku avishyamullathu panamanu. ente kayyil avishyathinnu kuduthal ullathum pannamanu
---
» salim: ee manushyarokke janikkunnathinu munpu aadine(goat) theettichirunnathaaraa?? mammootty: athu………..(thinking)……..ithu orumaathiri mattedathe answeraanu salim: che njaanathu chodikkan paadillaayirunnu
---
» Bus stoppil ninna bussu kittum , full stoppil ninna fullu kittumo.. potte oru pintengilum kittumo???
---
» Hallo Aarum pedikkanda… odikko…..!
---
» Arabikkadha Somebody : woh kidhar gaya? Salim Kumar : Kidharooooooooo gaya……….
---
» Arabikkadha shumin: where's mukun.tan sk: enthu kundan??
---
» Thenkaashipattanam Ishwaraa ivide aarum illalo ithonnu paranju chirikaan
---
» Thenkaashipattanam Dileep : Mindaathiri! Saleem : Saamoothiri namboothiri ennoke keetitundu…Ee mindaathri etha jaadi?(Serious) Dileep : Parajnu tharaam….Dishhomm [Saleem in pain] Saleem : Ohh…Sorr..Jaadi choothikhan paadillale!
---
» Thenkaashipattanam When Lal gets admitted to the hospital Suresh gopi : Evide? Saleem : (In a sad tone) Athaayghraha vibhagatillaa!!!
---
» Pachakuthira kazuthu varae perumbambu vizhinkyante thalayil aann chaviti ennu parnna polla aayye
---
» Rajamanikkam Mammotty: nammal entreyum nallu pothu kachavadam cheythittu ithuvareyum stay onnum vannittillalooo….. SK:Poothinte kaathil stayothiyitenta karyam????
---
» Salim Kumar : Ente aattukaal bhaskara Dilip : anganeyum oru daivamundo ? Salim Kumar : Itharam sandharbhangalil illatha daivathine polum vilichu pokum
---
» Ottakathe thottu kalikkaruth…Ottakam njangade desheeya pakshiyanu…Kettittilley ottaka pakshi…Buhuhahaha
---
» Ee Lekha……. Ivalo Vanchana…. alla vanaja
---
» actor:(Tohis dad) Venda pappa. Salim:O sarinte peru pappan ennano Ente perum pappan ennanu.Nice to meet u
---
» Thommanum makkalam ee kadhina pottana kanumbo.. enikku ente achane orma varum… ente achan oru vedikkettapakadathila marichathe.. (laughs)..entha cheyya..achante oru kaaryam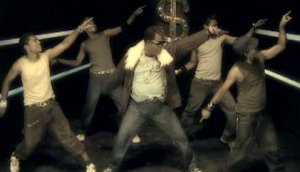 ---
Chocolate ninte vishamam parayeda…. njangalonnu santhoshikkatte….
---
» Paandipada dileep: Vandi speedil vidu SK: Ippol thane vandi hanumaan gearil aa pogunne
---
» Ushnam Ushnena shanti krishna…..enn alle?? Ithu pudiye pazhancholla?…. kazinja azicha release ayitte ullu…
---
» CHOCOLATE "MAHALAKSHMI AUTO PIDICHU VARUMBO VAHANABANDHU PRAKYAPIKALEDA"..
---
» CHATHIKATHA CHANDU Lal: Shhe!!! CUT. Sk: Entha sir cut paranjathu, kooduthal nannayo?