Whew! Finally the days of struggle are over. No longer I have to worry myself to fit the puny 30 MB of webspace. Yes friends the promised upgrade is finally here. The space has been bumped up to 100 MB coinciding with my birthday (and hence the title :D). And the other promised upgrade to Wordpress 1.5.1 has also been completed. The site has been totally revamped and yet the (perma-)links are still the same. Wordpress is truly magic!
Let me tell you some of the changes you might observe:
The Blog is the site (and vice-versa)
The gallery is now fully integrated to the Blog. Also means a post will now have more pictures inline.
The site will be themeable
Shortcut keys. Press Alt+A, Alt+R, Alt+H . If you use IE, press Enter in each case.
You can now subscribe to my site. Thanks to Bloglet!
Well, no, I'm not in Bench(!) In fact there was tonnes of office work. At one point there was 6 empty coffee cups (which had tea) on my desk. Then, how the hell did I do it? Well, god alone knows that I work best under pressure. That's why he so kindly keeps me less loaded most of the time. You gotta love him for that.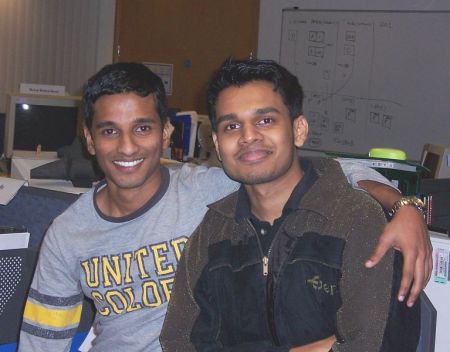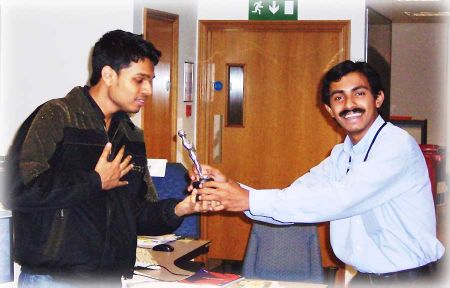 Well, let me thanks everyone who sent me birthday greetings through various ways. You really made me feel proud (and old, of course). Guys (and a girl) in my project managed to arrange cakes and get write-ups written about me. You won't believe the kind of planning that went into all this. This was when, like I said, we were in a crunch period. Of course, the threat (rather gesture) of birthday bumps always lingered around, I was thankfully saved from a potentially embarrassing situation. That too, (horrors) in front of my clients :p
In the evening we went to the MahaLakshmi Temple in East Ham. Later, we had a very enjoyable time while having dinner at Chennai Dosa. Ankur, Anant, Bhute, Parag, Sachin and myself were in total PJ mood. Most of the jabs were interestingly directed at Bhute. Its a world renowned fact that the only opportunity to taunt Bhute is when he is hungry. Needless to say, all of us made maximum use of this opportunity.
Well, saw some more movies recently. It seems most of you guys are put off by my movie reviews, so I shall not continue them anymore. Some great mallu songs have been released. Some of them from movies like 'Udayanaanu Thaaram' and 'Albhutadweep' are so good that I'm dying to see them. I installed emacs today and spent a few hours customising it. I hope this is a sign of many good things to come. Keep guessing ;)