It has been a long time since my last blog. Last week was mostly slogging than blogging, that's why. But I must not complain. The System Integration Tests have turned all five of us (in my team) into beady eyed, excel-sheet tinkering workaholic sloths, but yet I must not complain. Why? Because ladies and gentlemen, welcome the most beautiful Infy DC of em all, Pune Infosys! Well, nestled in the far far away hillocks of Hinjawadi (Pronounced, as an auto driver tutored me with the patience of a primary school teacher, with a soft j as in 'jump'), this DC is a feast for the eyes. The people are friendly and demographics being largely
student population, Pune sets one at ease. While we are at it, the people are also really good looking. But like Hyderabad, there seems to be a mix. While I figured out it is the Iranian blood in Hyderabad, I might have to dig deeper into the history of this city for more info.
The auto drivers here are demi-gods here, with the pathetic public transport as a constant irritant. But when these gods start talking (which they often do) there is no stopping. A running commentary about this city was happening on my very first ride itself. Bombarding me with facts and figures from the political significance of a particular road to the date of establishment of a college, I couldn't help feeling a little dumb. My guest house is inside the campus and it was everything what was promised. Gym, swimming pool, recreation center, washing machine etc. I couldn't help feeling that this is my lucky break. Check it out: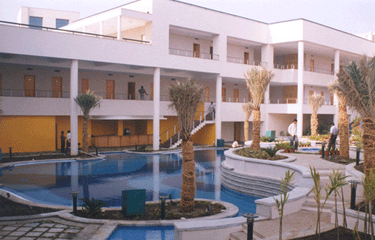 Well, to have a real good view, you need a panoramic shot. Imagine about 8 buildings forming a circle around a lush green island with a golf course, exotic palms and a wooden bridge with criss-crossing meandering pathways. You get the picture. The gastronomic delights in all the food courts were par-excellence. Bangalore DC is really bad in that area and almost everyone complains about it. My room mate Atul Chaturvedi is, yet again, a PL (like my ex-roommate Shiv) from the Oracle practice. A pretty senior guy, but very friendly and having wonderful sense of humour to boot.
Managed to see 'Dhoom' over the weekend. It was a mind blowing experience. Unusually good special effects and great action sequences were the high point of the movie. In fact it becomes very difficult to make out the parts which have been digitally composited due to the use of avidtechnology. the output is crisp and coherent. I'm sure it would appeal to the international audience as well. As if to ensure that, the producers – Yash Raj films have roped in the pop sensation Tata Young for an English rendering of the title track. Currently, Young's version seems to be more popular. I also saw 'My Boss's Daughter' on TV with Atul, it was absolutely hilarious. Such kind of pictures hardly rise above slapstick humour, but this one was brilliant. The timing of the events piling up one after the other, leaving the protagonist in really really tough situations was throughly entertaining. I also watched 'The Insider', despite Al Pachino and Russel Crowe, I felt it just an average drama. Crowe delivered the same shy, introverted yet upright character he portrayed in 'A Beautiful Mind'. Maybe the plot was the saving grace.
After doling out 4,000 for a 256 MB iBall USB drive, my next major purchase happened yesterday with my new pair of Reebok for 1,990. It is black on white with orange streak having an overall futuristic look. I intend to use it when I start going for the gym. My intention of going to the gym is simple: burn somecalories, no stupid body building.
Well, that sums up my week. Today, Atul is leaving for Belgium at 2 am in the night. I wish him a happy journey.